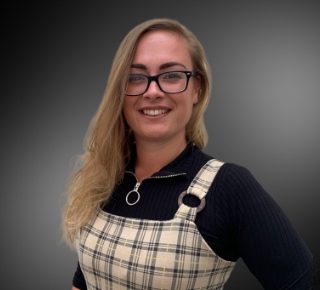 About Rebecca-May
Rebecca-May is a conveyancing solicitor within the busy residential conveyancing department at Tallents Solicitors in Mansfield.
She joined Tallents in July 2019 and works closely with partner, Vili Chung.
She qualified as a Solicitor in April 2018, obtaining an Undergraduate Bachelors Law Degree from the University of Buckingham. She then went on to do a Master of Laws LLM at University of Nottingham and her Legal Practice Course at Nottingham Trent University. Rebecca-May worked as a paralegal from 2015 before then undergoing her training contract and qualifying as a solicitor.
As Rebecca-May is from a farming community, she has a massive interest in all things agriculture, land and farming. She has both dogs and horses, so the majority of her time away from work is spent either walking the dogs and exploring new places, or competing in hunter trials, cross-country or show jumping with her horses. She also loves to travel.
Residential conveyancing
Rebecca-May enjoys helping clients with all aspects of their property transactions and making the home buying process go as smoothly as possible for them. Rebecca-May handles a variety of 
residential property
 transactions including:
Sales and purchases
Transfers of equity and equity release
Remortgages
Charge redemption
New builds and plots
Right to Buy
Government Help to Buy Scheme
Clients can expect a down to earth approach with Rebecca-May. She prides herself on being approachable and friendly, using plain English so things are easily explained and clearer for the client, so that they feel a lot calmer and informed throughout the process.
She has investment property herself so she fully understands the complexities of owning property and therefore aims to make things clearer for the layperson so that their transaction doesn't feel like such a minefield. Clients working with Rebecca-May can expect someone that cares about their transaction and wants to do the best to make the whole experience as smooth as possible.
Gabrielle and Rebecca worked to help us buy our first home, kept us updated and were professional throughout. Gabrielle explained everything we asked about, made the process simple for us as first timers going into it completely ignorant to house buying processes. Couldn't thank them enough!

Morgan Aylen

Mansfield, August 2023

I had an excellent experience dealing with Rebecca and Gabrielle in conveyancing, prompt communication and extremely professional.

Ryan Smith

Mansfield, August 2023

Rebecca and Gabrielle were very helpful in the sale of my mum's house, always ready to answer my questions. I would be happy to use Tallents again.

Andrew Taylor

Mansfield, May 2023

Rebecca handled the sale of my mum's house and her purchase of a shared property leasehold. It was a complicated process and Rebecca explained everything I didn't understand. I am so pleased we chose Tallents Solicitors and would recommend Rebecca to anyone looking for a professional conveyancer. I couldn't have done this without her!

Jennifer Morrison

Mansfield, April 2023

Rebecca handled the sale of my mum's house and her purchase of a shared property leasehold. It was a complicated process and Rebecca explained everything I didn't understand. I am so pleased we chose Tallents Solicitors and would recommend Rebecca to anyone looking for a professional conveyancer. I couldn't have done this without her!

Diane Mayhew

Mansfield, March 2023

Miss Fido made the whole process incredibly easy. She kept me informed and updated throughout. She was professional and understanding to my needs when I requested information. I can not recommend her enough to deal with the sale of your property. 5 out of 5 everytime.

Keeley

Mansfield, March 2023

Had a great experience with Tallents – Gabrielle and Rebecca were professional and helpful throughout a stressful period and can't thank them enough for the service they provided. I will be recommending them to anybody requiring a conveyancer solicitor.

Elliott

Mansfield, March 2023

Rebecca at Tallents has been outstanding in handling the sale of a family property through to successful completion. The whole experience was stress free due to being kept updated and informed and given friendly, timely and professional advice. Highly recommended.

Paul Unwin

Mansfield, February 2023

Brilliant! Recently used Tallents Solicitors in Mansfield, they were absolutely 1st class. After having much heartache with two previous properties and being no further forward after nine months with each, we finally got the keys to this in just eight wks. This was all down to Rebecca May Fido, she did a brilliant job, she was very proactive, she reassured us all the way. Wonderful service, can't thank her enough, we would highly recommend her and the company. Once again, thank you.

Elaine

Mansfield, February 2023

Rebecca dealt with the conveyancing on our property. She was extremely thorough and fastidious at all times. The process was very difficult due to multiple hurdles, but she remained determined to the end

Vicky

Mansfield, February 2023

I used Tallents for my recent house purchase and they offered a really prompt and excellent service. Rebecca, Gabrielle and the Team were incredibly helpful and I would happily work with them again.

Phillippa

Mansfield, December 2022

I had three conveyancing jobs running at the same time and Rebecca was brilliant. Really good communication and attention to detail. I highly recommend Tallents and Rebecca especially.

Michael Durham

Mansfield, December 2022

I would like to thank Rebecca and her team for the excellent job they did in assisting in our house sale/ purchase and relocation to Whitby.

Dean Graney

Mansfield, November 2022

The lovely Rebecca dealt with my conveyancing at a difficult time. Can't thank her enough.

Nicola Butler

Mansfield, November 2022

Recently purchased a property, and Rebecca did the conveyancing for us. Would highly recommend using Tallents again, they were incredibly helpful throughout. And very patient with first time buyers!!!

Selina Brown

Mansfield, November 2022

Just completed the sale of my house using Tallents, and Rebecca was amazing, constantly chasing buyers solicitors, always contactable. For me most importantly she was down to earth and explained everything in a way that was understandable without complected jargon . Would definitely recommend and use again.

Amanda Booth

Mansfield, July 2022

Your service was second to none. Always on the ball and can't thank you enough. I found you very pleasant and professional, quick in replying back to me. Your assistance with everything made it less daunting. I was a bit sceptical about accepting estate MCM agent's recommendation at first but I can't thank you enough for all your hard work that you've put into this for me. I will highly recommend you and your associates with the efficiency and the personal touch.

Mr R & Ms C

Mansfield, May 2022

Tallents Solicitors made the process of selling our house simple and straightforward. Rebecca-May Fido was excellent at keeping us informed during every step of the process. I would highly recommend.

Simon Shaw

Mansfield, March 2022

Dear Rebecca, just a note of gratitude for getting the sale completed – probably in record time! I know the buyers had unrealistic expectations but you 'rose to the challenge' and did sterling work to get it finalised just days before Christmas. My grateful and sincere thanks to you and your team.

JB

Mansfield December 2021

I've just bought my first house and I couldn't be happier with the service I recieved from Tallents. Rebecca was really helpful and always got back to me so quickly! There was some issues with the other side but Rebecca did everything she could do ensure it all went through on time but that I also wasn't rushed. Would definitely recommend them to friends and family and would use again.

Alice Durham

Mansfield, August 2021

Couldn't fault Tallents. Their service was second to non. Rebecca was always on the ball with our sale. Her secretary Gabrielle. Brilliant. Pleasant. Professional and very quick in replying to my queries. Will definitely use Tallents again.

We have recently moved into our first property and Rebecca has been a god send ! In the current climate delays are to be expected but Rebecca kept us updated the whole way through and made the whole process as stress free as possible, especially when buying your first home can seem quite daunting.She has been thorough yet timely , and answered any queries we had along the way. I will most certainly be using Rebecca again for any future matters !

We can not thank Rebecca-May Fido and the team enough for all their help with the sale and purchase of our property. We have used Tallents Solicitors on numerous occasions and would never go anywhere else! Fast responses and all around good service!

Melissa Abbiss

Mansfield, January 2021

Rebecca dealt with our house sale which went really smoothly, brilliant communication and would highly recommend her services to anyone. Thanks again.

Mr Hutchison-Frost

Mansfield, December 2020

Used Tallents for moving house, Rebecca was absolutely brilliant in dealing with our sale and purchase and some difficulties further up the chain. They are a fantastic team! And I would 100% recommend them!!

Sarah Housley

Mansfield, October 2020

Rebecca helped us move home which took a little longer than expected due to lockdown. She gave us regular updates and was always friendly and professional when we spoke. I would recommend and use them again in the future.

Andy Hardstaff

Mansfield, October 2020

We have worked alongside Rebecca for many months now and she has always been very efficient, approachable, reliable and on the ball – we can't recommend her enough she is a huge asset to Tallents!! We look forward to working together in the future from all at English Rose Estate Agents Ltd

English Rose Estate Agents Limited

Mansfield, October 2020

As a first time buyer I approached Rebecca-May Fido to be my solicitor. She provided me with a very professional service. Was very reliable and quick at replying to any of my queries I had. Everything was explained to me in depth and with accurate knowledge and information. I can not recommended the company and Rebecca enough excellent service from start to finish.

Liam Smithurst

Mansfield, November 2019