Buying your first home is exciting but the legal side of moving can be confusing, so that's where a solicitor experienced in guiding and supporting First Time Buyers is invaluable. Rebecca-May Fido from Tallents Solicitors has put together a helpful guide to the legal house buying process, known as conveyancing.
You've saved the deposit, had your mortgage agreed in principal and having found your dream home, your offer has been accepted by the sellers. So, what's next?
Instructing a solicitor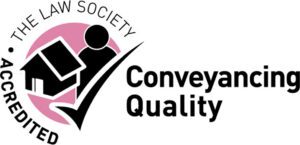 Now the legal side of the house buying process begins. We recommend you ask several solicitors for quotes for their conveyancing costs. For a quality service, check that the firm is accredited to the Conveyancing Quality Service (CQS). This mark shows the firm meets high standards in the residential conveyancing process.
Once you've chosen your solicitor, instruct them to proceed on your behalf. They will provide you with client engagement details outlining a full breakdown of expected costs such as: professional fees, search fees, Land Registry fees, any stamp duty land tax, etc. and their terms and conditions.
Pre-contract stages
Proof of origin of funds
The solicitor will also ask you to prove where the funds you're using to purchase your home are coming from. Most purchasers fund most of the purchase via a mortgage, but you will also need to prove where the remaining purchase funds (e.g. your deposit) have come from. This could include bank statements showing regular savings and funds deposited with the bank, a financial gift from a family member, or an inheritance. Your solicitor will advise what documentation you need to provide in order to prove this.
Contract papers
Your solicitor will ask the seller to complete a property information form to provide details about the property being sold and proof they are the legal owner. The solicitor will then draft the contract with terms and conditions for the sale.
Searches
These need to be carried out against the property you are buying and the results may help you decide whether to proceed with the purchase or not. The main searches ordered are an Environmental Search, a Drainage and Water Search, and a Local Authority Search. Your solicitor will order these for you, send you copies of the findings with a report on the information provided and raise any necessary enquiries with the seller for additional information.
Surveys
We typically advise that a structural survey by a RICS qualified surveyor is carried out on the property that you intend to purchase. After all, this is going to be the biggest financial commitment of your life so far; you are spending your hard-saved money on a property, so why would you not want to know everything about it? Your solicitor should be happy to look through the report and raise any necessary enquiries with the seller. Once your lender is happy with the survey results, they will send out your mortgage offer.
When all enquiries are satisfied, your solicitor will meet with you to discuss the next steps and for you to sign all necessary documents. Dates will then be discussed for the exchange of contracts and completion. Your solicitor should keep you informed throughout and be happy to provide updates on the process.
Exchange of contracts
You are not legally bound to the property purchase until you have signed contracts and these have been exchanged. So, should your circumstances change, you can walk away from the purchase of the property up until the contract exchange. However, it's likely you'll have to pay the solicitor's fees for any work incurred up to that point.
Your solicitor will discuss a completion date with you and the day by when all the monies for the property will have to be paid.
Completion
Once all the monies have been received from the buyer, the seller's solicitors will contact your solicitor to confirm receipt and inform the estate agent to release the keys. Congratulations! You've just bought your first home!
After completion
 Your solicitor will complete any final legalities required regarding the purchase. These may include: paying any stamp duty land tax due, registering the new homeowner's details with the Land Registry and once registered, advising the lender that their charge over the property has also been registered.
Buying your first home
The process of buying a home may seem daunting but our experienced solicitors have helped thousands of people move home over many years, so they are able to support and guide you every step of the way. We hope this guide to conveyancing for First Time Buyers has been helpful and you are welcome to arrange an appointment at one of our offices in Newark, Southwell or Mansfield to discuss the home buying process. We'll be happy to advise you.