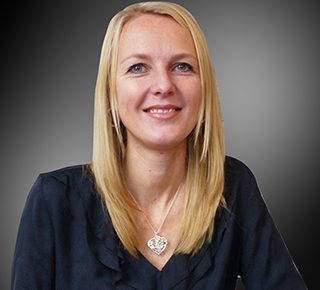 Conveyancing Executive
Email
About Kerry
Kerry Baldwin is an experienced residential Conveyancing Executive working within the busy Conveyancing Department at Tallents Solicitors in Newark.
She joined Tallents Solicitors in 1992.
When she is not working, she enjoys spending time with her family.
Conveyancing department
Kerry is committed to assisting clients with all aspects of their property transactions and making the process go as smoothly as possible for them. She has established herself as one of the most in-demand conveyancers in Newark; she has an excellent reputation for getting the job done efficiently and with as little fuss as possible.
Residential Property
Kerry handles a wide variety of residential property transactions in Newark and the surrounding area including:
Registered and unregistered land
Freehold and leasehold sales and purchases
Transfer of equity
Transfer of mortgage
Shared ownership
New builds and plots
Right to Buy
Government Help to Buy Scheme
Brilliant service. Always replied to questions asked in a timely manner. Kerry Baldwin was amazing. You made a very stressful situation bearable.

Lisa Magnani

Newark, September 2023

As a first time buyer, Kerry and her team helped me through the process and helped everything run smoothly. I was informed at every step and received very professional service.

Lauren Hay

Newark, July 2023

Kerry Baldwin and her team were fantastic to deal with throughout the whole house moving journey. Always kept us up to date and gave swift responses to any questions asked. I would highly recommend.

Excellent service from Kerry Baldwin and her team. Thoroughly recommended. First class.

Paul Baumber

Newark, August 2023

Fantastic service from Kerry and the new build team on the purchase of our property. Fast, efficient and clear communication every step of the way.

Ed B.

Newark, August 2023

We have just completed the sale of our house and are very pleased with the service provided by Kerry Baldwin and her team. They are all professional, efficient, helpful and communicative. Our transaction went through very quickly and we would highly recommend them. We would certainly use their services in any further transactions.

Janet Clifton

Newark, July 2023

Dear Kerry, we just wanted to say a huge thank you for all of your incredibly efficient and hard work to help us pull off our move in such a tight time frame. We really are massively appreciative and are already so confident that this was the right move for us.

The purchase of our forever home was seamless thanks to Kerry and the team at Tallents. Very knowledgeable and quick to respond to any queries we had. Highly recommend.

Catherine Twell

Newark, April 2023

Kerry's property sale team are brilliant, very efficient and always respond promptly. I am very happy with the service I have received in the sale and purchase of a property.

Charlotte

Newark, March 2023

Kerry and the team were absolutely amazing! As first time buyers we couldn't have asked for a smoother transaction.

Sonali Joshi

Newark, March 2023

Kerry and her team from Tallents Solicitors were from start to finish, professional and courteous and understood the extra work involved when doing the conveyancing for my property on the Fernwood estate, which included the added work with the estate management company necessary to sell the house. The service provided was in my opinion value for money as they took the stress out of the legal side and got the sale across the line in good time. I would recommend then to anyone looking to sell within the Newark and surrounding area!

Chris Peacock

Newark, March 2023

We've used Tallents twice now, both times for the purchase (and sale) of a property. Kerry, Hayley, and indeed everyone at Tallents have been fantastic; quick to respond to queries and courteous & helpful in response. I'd highly recommend them.

I recently used Tallents Solicitors for a sale and purchase of property, the service was outstanding. The process went through incredibly quick! Many thanks to Kerry and her team.

Daniel Crangle

Newark, January 2023

Kerry was extremely helpful which allowed us to have a smooth process with buying our first home!

Sydney Cooke

Newark, January 2023

A great firm that was a pleasure to have represent us in our house sale and purchase. Kerry Baldwin in particular was fantastic but so were the rest of the team. On the day of completion, our buyers solicitor hadn't transferred monies for our house sale appropriately, therefore our purchase could not be completed. Tallents were not at all at fault, but thanks to their fantastic relationship with the housing developer who we were purchasing from, they managed to agree to us getting the keys to our new house despite completion not being achieved. This meant we went from being a family of four who were all but homeless for the weekend to a very happy family of four with a lovely new home. We owe a great deal of gratitude to Kerry at Tallents for this. Would absolutely recommend.

Ravi Patel

Newark, December 2022

Tallents Solictors have been amazing in supporting us with buying our first home. Kerry and her team were professional, reliable and hassle free. No question felt like a silly question when asking her. We would definitely recommend and will use there services in the future.

Jess Mason

Newark, December 2022

Amazing service, used for Purchase and Sale – this firm recommended to me from a friend and I could not be happier. Will certainly be using again. Thank you so much for swift and successful purchase of house. Outstanding service from Kerry and Co.

CasCas

Newark, December 2022

I just wanted to say thank you for your help and the work done to get us to completion. It's been great, stress free and straight forward dealing with you and your team. If we ever move again (hopefully not for a while) or know someone who is we will definitely be in touch.

Seb & Kat Perrin

Newark, December 2022

I did sale and purchase conveyancing through Kerry Baldwin's team at Tallents and couldn't be happier. This is the 3rd time I have moved house and was by far the least stressful! The team were always on hand to answer any queries I had, and were polite and professional throughout.

William Barr

Newark, November 2022

They were wonderful throughout the process of purchasing our house. Kerry and her team were always reachable, and their response was very quick. I would use and recommend them.

Adeboye Adebowale

Newark, November 2022

Dear Kerry and Team, Thank you all so much for making our purchase so easy. We have moved house 21 times and this has been by far our easiest move. Congratulations and thanks to a great team.

John & Sue

Newark, October 2022

Fantastic company to deal with. We have moved a large number of times and this was the best experience we have had. Thank you Kerry and the team.

John Humphries

Newark, November 2022

Working with Tallents Solicitors made my selling and purchasing way easier. They are very responsive, and they would explain anything to you. Thank you so much for your help.

Oana Georgescu

Newark, October 2022

What an excellent service from Kerry Baldwin and her team at Tallents in Newark. They got me in to my new home super fast and with very little hassle. Everything was explained well and the staff at the branch were all very helpful. Would definitely use this firm again for any future conveyances.

Kirsty Mcdonald

Newark, October 2022

I was recommended Tallents Solicitors buy my house builder David Wilson Homes. I am absolutely delighted with the impeccable service Kerry and and fabulous team have provided. Staff have been polite, courteous and patient whilst exchanging documents. I dealt with a lovely lady by the name of Connie, who guided me through the whole process effortlessly. I have no reservation in recommending them.

Kuljit Jaye

Newark, October 2022

I brought my house using their services, Kerry Baldwin and her team did a great job ,and after two months I receive the keys for me house . Thanks u so much for the great job u did Kerry & team.

Catycy1

Newark, September 2022

I am really happy to work with Kerry and her team. They were very professional and accurate and completed all steps in a timely manner, which was very important to me as a first time buyer. Thanks Kerry and all team.

Amin Kolahdooz

Newark, September 2022

Kerry and Kirsten were absolute superstars to work with! Very knowledgeable, calming, very intuitive and straight onto everything that needed to be done! I would recommend Tallents to everyone I know!! Thank you all so much!!

Selen U

Newark, August 2022

Thanks to all the Team at Tallents. They helped with both a house purchase and sale for myself. Kerry's team where helpful throughout the whole process and Id highly recommend.

Ben White

Newark, July 2022

Tallents Solicitors were absolutely brilliant in helping us buy our first home. They walked us through it step by step, were quick to respond to emails and everything went through without a hitch. We had some issues in our contracts at points where the name was spelt incorrectly and the team were very quick to get this rectified by the buildings company. I would highly recommend Tallents Solicitors to anyone, and if we do decide to sell and buy again we will definitely be using them again.

Alison Hoffmeister

Newark, July 2022

Just wanted to say thanks so much for being so wonderful over the last 6 months. We have fought hard and won many battles together! Can't believe it's finally happened!

BR & PC

Newark, July 2022

I'd just like to thank you Kerry and your assistants for your support during my mortgage process. It wasn't always straight forward but I feel I've learned a lot and appreciate your expertise.

I used Tallents to purchase a house, Kerry and her team were efficient, effective and very responsive to any queries. Would absolutely recommend.

Genuinely, thank you again Kerry. It was very smooth and I would definitely recommend you.

And thank you Kerry for your work throughout this. I appreciate it's been a bit of a pain with the sellers solicitors being so rubbish in the initial stages, but thank you for your perseverance. That's three property purchases and a sale I've now used Tallents for, and you've always done a great job. Will always recommend you to anyone who asks.

Clare, Emma & Kerry, I would just like to say a huge thank you to you all for the service you have provided me over the last year or so. Clare and Emma you have been incredibly understanding, sympathetic and have dealt with everything (including myself) with the utmost compassion and made difficult times run smooth and dealt with my Dad with care and humanity thank you. Kerry, as always you have dealt with the sale of the estate and the buyer's diabolical solicitors with haste and understanding thank you. Once again thank you. Yours sincerely

Kerry, thank you for finally getting the exchange and completion over the line today. I just wanted to say thank you (it's rare I will ever say that to someone in the legal profession), however it wouldn't have happened without you and I didn't want to see the day out without passing on mine (and Leigh and Harvey and Jude's) gratitude. I am saying "never again" right now, but I know I am only trying to kid myself! There will only be one person I will want to be using moving forward!!!!

Paul Marlow

Newark, September 2021

Hi Kerry, thank you for your professionalism and diligence, during the sale. A difficult time for me. This was made easier by keeping me informed of the process and ensuring I was aware of what I needed to do to carry things forward to completion.

Julie Carrott

Newark, September 2021

Selling a property and the buyers solicitor was awful, Kerry and Kim did a fantastic job dealing with them. Their professionalism stood in stark contrast to the buyers solicitor.

Aaran Sumner

Newark, November 2020

Excellent professional service with the sale and purchase of my new property. Kerry and Kim kept us upto date regularly and were on hand to help with any queries. Will definitely recommend and use the company again. Thank you.

Matt Thomas

Newark, January 2021

You recently sent my partner and I a Client Satisfaction Questionnaire and we are formally responding. Your official questions all get a straight 5, but this isn't enough. We recently purchased a David Wilson property having sold our house just weeks before Covid-19 lockdown kicked in. It's fair to say it has not been the best of situations to work with however, Kerry Baldwin is in short, and without doubt an absolute star and a credit to your organisation! We had terrible delays with one thing and another, our mortgage, paperwork and all the other things that go with it, but she really pulled it out of the bag and went above and beyond for us for which we will be forever thankful. As we sat in our cars waiting to leave our belongings in the house we couldn't get the keys for, she called to say, 'go and get your keys'. Without going into all the details or boring you with the emotions it was the best moment and a story we will be telling for a long time! Having someone who communicates and is as honest with you as Kerry was with us, was just what you need when buying a home because for you it IS personal and she really showed us that she cared. I have been through this process before and I have never come across anyone like Kerry, so a massive emotional thank you! Would we recommend you, YES. I have already done so in fact to anyone who will listen. Kerry already knows how thankful we are but I hope this one gets around the office. Kind regards, Emma & Scott

Emma & Scott

Newark, July 2020

Kerry and her team were very friendly, supportive and helpful through this stressful time.

Anonymous

Newark, May 2020

Thank you for all your help and patience, Kerry & team. Kind regards.

Mr & Mrs Watson

Newark, May 2020

Amazing service! Finally in our new home! I can not recommend Kerry and her team highly enough! They went above and beyond what we expected. Use these Solicitors if you want outstanding service. I wouldn't use anybody else now.

Tez Fahy-Neil

Newark, January 2019

Very professional service. Staff are very helpful and polite. Great communication. Always kept informed about progress. Kerry and team were excellent. Highly recomendable.

Abhilash Krishna

Newark, December 2017