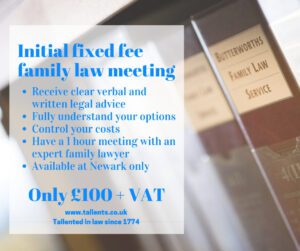 At Tallents Solicitors, we understand that the thought of running up large legal bills can be worrying.
So, to make things easier to understand, we offer a fixed fee for an initial fixed fee family law meeting with one of our experienced family law solicitors at our Newark office, for only £100 plus VAT at 20%.
Clear legal advice you can trust
Your initial fixed fee family law meeting at our Newark office should last for approximately an hour.
At this meeting, one of our experienced family lawyers will listen to your individual circumstances and offer preliminary advice as to the legal options open to you.
We will ask for details about your personal situation both before and during the meeting, and in addition to giving you legal advice at the meeting, we will also follow up with a letter confirming our legal advice to you.
Please note that we offer this initial fixed fee meeting at our Newark office only.
We also offer a weekly free family law clinic at our Southwell office, which is available via the phone every Tuesday evening from 5pm-7pm. No appointment is needed to take advantage of this free verbal consultation. Just call 01636 813411 to speak to an experienced solicitor in confidence.
Why choose Tallents Solicitors as your family lawyer?
Our family law team has a wealth of legal experience gained over many years, which means we are equipped to handle any of the family law issues you may be facing.
Our team have been highly trained to handle each case sympathetically and efficiently, so you can be sure we are on your side at all times.
If you would like to learn more about our family law department and team, then please click here.
Next steps
To make an appointment for one of our initial fixed fee meetings, please call 01636 671881.