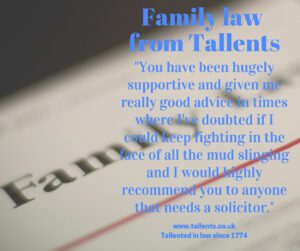 Tallents Solicitors has legal specialists able to offer advice and support in a wide range of family and children law matters, including: child contact, domestic abuse, adoption, local authority involvement, care proceedings and child protection.
Two of our legal team hold the Law Society Children Law Accreditation mark and are members of the Children Panel: Andy Stout and Mathew Derbyshire. Andy Stout is also a Resolution Accredited Family Law Specialist and a Collaborative Family Lawyer.
We understand that when relationships break down, children are often caught in the middle. Their needs can easily be overlooked when emotions run high, but Tallents Solicitors is here to help you work out what is best for yourselves and your children.
If you would like to speak to someone about your personal situation, then please contact our Children Law specialists at one of our three offices in Newark, Southwell or Mansfield.
Tallents Solicitors also holds a FREE family law clinic at its Southwell office on Westgate, every Tuesday evening from 5pm until 7pm. No appointment is necessary. Just call 01636 813411 to speak to a solicitor in confidence.
What is the Children Law Accreditation?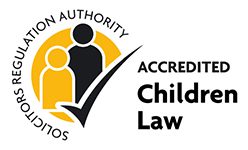 The Law Society's Children Law Accreditation covers all types of children law work.
Accredited members will have shown to the satisfaction of the Law Society, that they have and will maintain a high level of knowledge, skills, experience and practice in the area of children law and the representation of children.
All accredited Children Law practitioners also agree to follow the Law Society Code of Practice for Children Law (PDF 50kb). The code outlines the standards of practice and conduct expected of accredited members throughout their accreditation.
The Children Law Accreditation provides a recognised quality standard for practitioners representing children in children law proceedings and is a means of identification for professionals, such as guardians, to identify suitably qualified practitioners when representation of a child is required.
Children Law Accreditation evidences specialist expertise in representing clients in Children Law proceedings and also provides the following benefits:
ensures that clients can confidently select a qualified professional with proven competency in children law proceedings
confirms our expertise in representing children, allowing Tallents Solicitors to be instructed by CAFCASS/guardians
assessment against an accreditation recognised by the Legal Aid Agency, enables Tallents Solicitors to undertake publicly funded representation of children
shows that you maintain relevant standards of competency and expertise in the field through re-accreditation
demonstrates our conformity to a best-practice quality mark that prospective clients can trust.