What you need to know about the relationship choices available to mixed-sex couples in 2020
For mixed-sex couples wishing to put their relationship on a more legal footing, 2020 is the first year that they are able to enter into a civil partnership instead of a marriage in England. Introduced in 2005, previously the law only allowed same-sex couples to become civil partners.
Family law expert, Andy Stout looks at the options now available to cohabiting couples who may wish to protect any property or business assets, and make provision for their children or dependents.
There's no such thing as a 'common law marriage'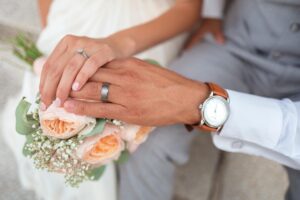 It's still surprising that almost half of adults recently surveyed mistakenly believed that cohabiting couples enjoyed the same rights under a 'common law marriage' as couples who were legally married.
In reality, cohabitation confers no legal status to mixed-sex couples and the results of this survey carried out by NatCen on British Social Attitudes, is concerning given that cohabiting couples now account for the fastest growing type of family household in England.
So with all the options available, what do cohabiting couples need to know?
Cohabitation agreement
For those not wishing to enter into a formal legal relationship, it could make sense to sign a cohabitation agreement, or a living together agreement, to give both partners some legal protection and guidance should the relationship break down. Just like a will, a cohabitation agreement should be updated if there's a change in your situation, such as a child being born.
Pre-registration agreement
If you are entering into a civil partnership, then you may choose to sign a pre-registration agreement which can set out your rights and obligations towards each other before you commit legally.
Prenuptial agreement
If couples are considering entering into a marriage, then a prenuptial agreement is also a sensible consideration, especially if the relationship might be considered 'complex' and existing financial assets need to be protected.
Civil partnership or marriage?
A civil partnership is similar to marriage in the terms of the legal claims it provides couples with regards to property, inheritance and tax entitlements. It offers the same rights within the relationship without having to go down the traditional marriage route. We would always recommend that a valid and up to date will is in place as well.
The choice between a civil partnership or marriage now comes down to the personal feelings and the views held by the couple making the commitment. Some feel that a civil partnership better reflects today's modern relationships, whereas others feel they want the traditional institution of marriage. It's an entirely individual choice.
Writing a will
No matter which relationship you choose, couples living together should always have a valid will to ensure control over who receives their estate and to protect loved ones left behind in the event of death.
At Tallents Solicitors, we understand that with these additional relationship options come additional responsibilities, and the various routes available to couples can be confusing. Especially as the relationship decisions made now can have a far reaching effect on finances, property and children in the event of a relationship breakup, or even death.
Our legal experts are on hand to help guide you towards the most suitable solution for you both. We also offer a free family law clinic every Tuesday evening at our office in Southwell from 5pm-7pm, although due to the coronavirus, this is currently available by phone, so please call 01636 813411 instead. Anyone is welcome speak to one of our family law specialists.