As 2016 ended, it seemed that being a celebrity continued to be a dangerous occupation as yet more famous faces passed away.
The majority of famous people who passed on had planned ahead by leaving Wills documenting how their estates should be distributed. However, there were a couple of notable celebrities who died intestate during 2016: namely Prince and Caroline Aherne.
Prince, the 57-year old superstar, died without making a will and his estate, conservatively estimated at over $500m at his death in April, will be split between his siblings and half-siblings, but probably only after a lengthy and drawn-out court battle. Actress Caroline Aherne died intestate in July and her entire estate of approximately £500,000 will now pass to her mother, but only after an Inheritance Tax bill of £71,000 has been paid.
A Will gives you peace of mind
Ann Farnill, Head of Wills, Trust and Probate Department of Tallents Solicitors commented:
No one wants to think about his or her own mortality, but you never know what's around the corner. The seemly large numbers of our much-loved celebrities who died during 2016 has had the knock-on effect of making their fans consider what will happen to their estates in the event of their death and to help to make their passing easier for their relatives left behind.
The shock of Carrie Fisher's sudden passing in December is likely to have put an exceptional amount of stress on her mother, Debbie Reynolds, who passed away the following day after suffering from a stroke. Debbie, aged 84, apparently had left explicit instructions for her memorial but Carrie, aged 60, had yet to make any plans, just as her father Eddie Fisher had failed to do when he died in 2010.
Decide what you want to do with your money by writing a Will
Ann continued:
You really can't be too young to consider writing a Will and making clear what you want to do with your estate after you die. And you certainly don't want to leave your loved ones with a tangled financial mess because you died without a Will.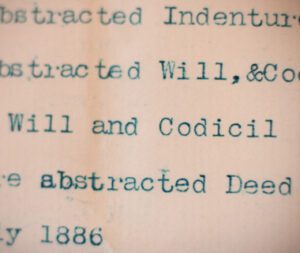 After his sudden death, stories emerged of George Michael's generosity in secretly distributing some of his exceptional wealth to charities that benefited children, cancer victims and AIDS sufferers. He helped out individuals too, giving money to a waitress to help with her student debts, a couple trying to have a baby through IVF and was also known for volunteering at a homeless shelter. It's likely that several high-profile charities in the UK will benefit once more from his generosity, once the details of his Will are known.
Ann adds:
The first step in making a Will really isn't hard. Just call a solicitor to make an appointment. With years of experience in preparing Wills, we can help everyone through the process, quickly and sympathetically.
The will-writing process is often more straightforward than people think. We have guides on our website (click here) to help you prepare for a meeting with your solicitor.
Review your Will every five years
If you've already made a Will, then Tallents recommend you review it every five years, or earlier if circumstances change. For example: marriage, separation, divorce, the birth of a child or grandchild, the death of a beneficiary in your Will or moving home.
Ann finishes:
Many people find great comfort in making a Will and it can be a useful period of review and introspection, often resulting in a renewed enthusiasm for the future knowing that there's one less thing to worry about.