Agricultural tenancies and diversification
With significant challenges being faced by tenant farmers in a post-Brexit world, could diversification be a solution to secure the sustainability and prosperity of a farm, asks Alistair Millar, agricultural lawyer and Partner at Tallents Solicitors in Southwell.
However, tenant farmers who wish to pursue a diversification project face several hurdles along the way, including the provisions of the agricultural tenancy legislation, gaining the landlord's permission and agreeing terms for a variation to the existing agricultural tenancy. Alistair offers some guidance for success.
Speak to the landlord early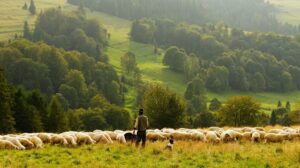 Most farm tenancy agreements contain clauses that restrict the holding to be used for agricultural purposes only, so tenants wishing to diversify should give notice of their intent to their landlord, preferably in writing. Alistair advises tenants to do this as early as possible in the process so that the landlord has every opportunity to fully consider the project. The landlord should take legal advice on how the proposed diversification will affect the lease terms.
Agree a timetable and deadlines
Both parties should agree to timescales and these should be put in writing. This should allow for the preparation of a detailed business case for consideration by the landlord. The timeframe should also take account of any deadlines for grant applications or funding which might be required.
Preparing a business case
Whether the diversification requires a variation to a user clause or is a major non-agricultural project, the business case should be as detailed as possible. This might include:
financial appraisals, budgets proposed cash flows and gross margins,
details of how the project will be funded, either solely by the tenant, via a loan or grant funding,
to what extent the terms of the tenancy will need varying, and the impact this may have on the landlord's rights and reservations,
any consents (e.g. planning permissions or regulations) that will be required from third parties,
detail of any assignments, sub-lettings or joint ventures which may form part of the proposal,
any proposals for recording of permanent works as Tenant's Improvements or Tenant's Fixtures,
any proposals for variations to the passing rent.
Consideration and next steps
It is likely that the continued success of British farms in the future will rely more and more on adding a diversified income stream to that of food production, so it will be worth the landlord's while to give full consideration to the tenant's diversification ideas. If the proposals are acceptable, then a formal written agreement should be drawn up covering all matters on the tenancy.
Tallents Solicitors has been advising farmers and landowners in North Nottinghamshire for over 245 years and our agricultural experts are here to help you, whether you are a landlord or a tenant farmer. Call 01636 813411 to set up a confidential appointment.