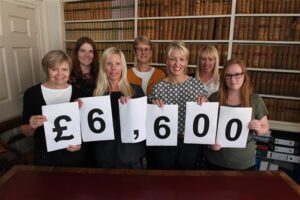 Tallents Solicitors took part in a month long Wills promotion to help raise thousands of pounds for Beaumond House Community Hospice.
More than 50 people have taken part in the scheme to have a Will drawn up by in return for a suggested donation to Beaumond House rather than the usual solicitor's fee.
Sarah Allen, a solicitor with Tallents Solicitors in Newark, said they were pleased to help Beaumond House.
We are a long-standing Newark-based firm and we like to support local charities,
she said.
Sarah said a lot of people seemed reluctant to make a Will and did not realise the importance of making one. She was pleased that so many people had taken the opportunity to have one drawn up and raise money for the Newark hospice at the same time.
Thousands of pounds raised for Beaumond House
We are delighted with the amount raised,
she said.
Having a professionally-drafted Will can avoid difficulties for loved ones in the future and seeing a solicitor enables you to obtain a wealth of advice to ensure that all your affairs are in order.
A donation of £95 was suggested for a single will or £150 for two mirror ones. So far £6,600 has been raised and it is hoped the total will eventually top £7,000.
Fundraising and marketing manager for the hospice Cathy Lowe said it was a wonderful offer by Tallents Solicitors and she was pleased the initiative had been successful.
It has involved a significant amount of time and resources and so we are grateful for everything they have done,
she said.
Delighted so many more people now have a Will
Cathy said she would have been pleased if only a few people had decided to get a Will so was delighted that so many had done so.
This very generous offer seems to have triggered so many people into doing something that perhaps they have been putting off,
she said.
The Will-writing promotion also gave people the opportunity to think about leaving a gift or legacy in their Will for Beaumond House.
The hospice needs £1m each year to function, of which a quarter is provided by the NHS with the rest funded by the local community and businesses.
— — —
This article first appeared in the Newark Advertiser, written by Lucy Millard.