A recent study by the charity Will Aid found that more than half of parents in the UK with dependent children under the age of 18 haven't yet made a Will.
The study revealed that 53% of mums and dads hadn't got around to writing this important document, naively thinking that it doesn't matter too much because they don't have much to leave their children at this point in their lives, they're too young to bother or don't want to think about death.
Sarah Allen from Tallents Solicitors explains the several reasons why all parents should have Wills.
She says:
The main reason to have a Will as a parent is to nominate a guardian for your children in the event of your deaths. Orphaned children under the age of 18 need to live with a responsible adult and the legal guardian can make this decision. It may be that the children will live with the guardian or the guardian can arrange for them to live with another member of the family.
However, not many parents realise that if a legal guardian hasn't been appointed at the time of the parents' death, then the family court will decide with whom they will live. Even if the family agrees this together, the court will still have to approve the final living arrangements.
Sarah continues:
If you have separated from your wife or husband but haven't yet divorced, then you should definitely consider either writing or reviewing your Will as your ex is still legally your spouse. In the event of your death, your spouse may well inherit your entire estate.
However, you may wish to leave money in trust for your children to use at a later point, perhaps for education or as a deposit on a property, but that opportunity will be taken away from you if you haven't specified your exact wishes in a Will.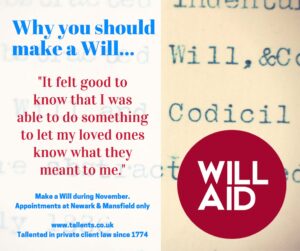 Sarah says:
There's so much to consider when making a Will that parents can feel very overwhelmed at having to make decisions about things that may or may not yet happen. But that's what our experts are here to help with.
We write Wills for hundreds of people each year and there aren't many scenarios that we haven't come across over the years. This means that we can anticipate and advise parents on the best possible decisions to make when writing a Will, based on their own individual circumstances.
To make will writing even easier, the Wills teams at the Newark and Mansfield offices of Tallents Solicitors are taking part in the Will Aid will writing scheme again this year to encourage clients to write Wills in exchange for a donation to the charity.
Tallents Solicitors will write basic single Wills or Joint Wills during November for suggested donations of £95 or £150 to Will Aid. Anyone who wants to make a Will can find out more by visiting www.willaid.org.uk or by visiting www.tallents.co.uk.
You can also download a Will writing planner by clicking here.