If there's one thing we've learned during the coronavirus crisis, it's that we really can't take anything for granted any more, says Sarah Allen, Head of Wills, Trusts and Probate at Tallents Solicitors.
At some point or another during the last few months, we have all felt that we don't have total control over our lives, but during unsettling times like these there are ways that you can take control back. One way to achieve this is with Lasting Powers of Attorney (LPAs), but what are they and how can they benefit you?
What are Lasting Powers of Attorney?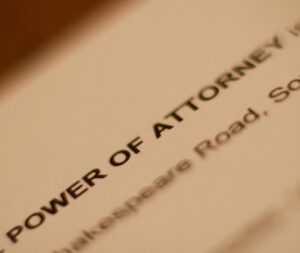 While we can't predict the future, LPAs mean that you will have peace of mind knowing that your affairs can be kept in order and your wishes expressed on your behalf by your loved ones, if you are unable to do so yourself.
There are two kinds of LPAs which allow you to select another person, or more than one person, to deal with your affairs in relation to two specific areas: Health and Welfare or Property and Financial Affairs.
You can make LPAs at any time in your life as long as you have sufficient mental capacity. They are important documents that every adult should have in case they struggle to manage their affairs or make decisions following an accident, illness, stroke, brain injury or a deterioration in mental health.
What decisions can be made under a Lasting Power of Attorney?
Under a Health and Welfare LPA, your appointed Attorney(s) can express your wishes and, where necessary, make decisions for you regarding where you live, what day-to-day care you receive and medical treatment. Once registered, this type of LPA can only be used when you have lost your mental capacity.
Under a Property and Financial LPA, your appointed Attorney(s) can deal with your property and financial affairs, such as claiming benefits on your behalf, managing bank accounts, paying bills, selling investments, selling or renting property, etc. This type of LPA can be utilised at any point following registration as it is needed.
Who can be my Attorney?
You can choose anyone (family, friend, a professional person such as a solicitor) to be your Attorney(s) but it's important that you select someone you trust to be your Attorney(s) as the role also carries a great deal of responsibility, and if you chose more than one Attorney to check that they will be able to work together with your best interests at heart.
It is usually a good idea to choose someone younger than yourself as your Attorney(s). Many people don't realise that when assets and investments are in your sole name, then your spouse has no authority to deal with them on your behalf without an LPA in place.
When creating the LPA, you set the guidance or restrictions under which they can make individual or joint decisions for you. Your Attorney will also need to sign the LPA, so it's important that you have a frank discussion with them about your wishes.
How do I get a Lasting Power of Attorney?
At Tallents Solicitors, we have years of experience in helping people with their LPAs and our experts can talk you through the process, simply and clearly so that you can make the decisions now that will be right for you in the future should LPAs ever be needed.
Appointments to discuss making Lasting Powers of Attorney are available at our offices in Newark, Southwell and Mansfield. Just call us to set a date and time that's convenient for you.