Tallents Solicitors is delighted to have retained their Lexcel accreditation for another year.
Each year, Tallents Solicitors continues to develop its practice management and improve on their already high client care standards. As always, our aim is to ensure that our teams can provide the best possible service and legal advice to all the clients we work with.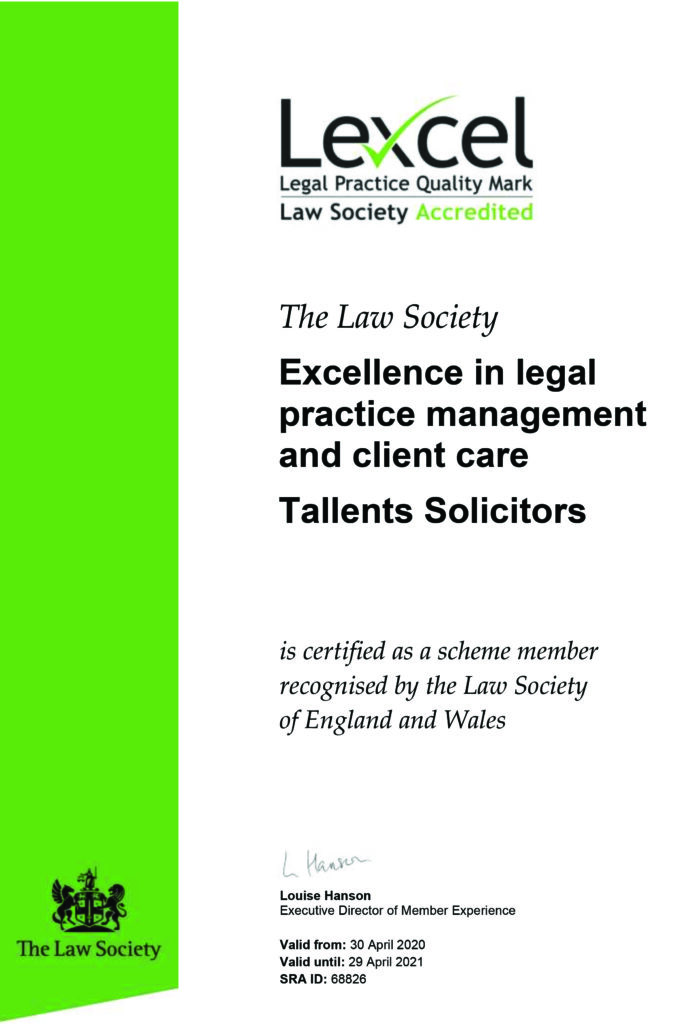 This year, the visiting Lexcel assessor noted a large number of 'areas of good practice' during the accreditation and had no major or minor issues at all with the company.
What does the Lexcel Accreditation mean for our clients?
Client care is a key aspect in achieving Lexcel Accreditation. Lexcel Accredited law practices must follow key rules relating to client care including:
Explaining the process, the different options, costs and likely timescales to you.
Telling you the name of the person or people responsible for your matter and explaining the advice that will be provided.
Keeping you up to date using your preferred method of communication and ensuring work progresses.
Telling you when unforeseen issues affect the original cost estimate and timeframe and explaining the impact.
Telling you when the work is completed. Explaining further action that may need to be taken and whether you are likely to need more advice in the future.
Senior Partner, Mark Hawkins commented:
"I am incredibly proud of the efforts that our teams in Newark, Southwell and Mansfield have put in to ensure our clients are fully satisfied with the professional manner in which their legal matters are handled.
"They work very hard to develop and maintain good relationships with our clients, so that they return to Tallents Solicitors again and again.
"I am delighted that their hard work has been acknowledged by maintaining our Lexcel accreditation for another year."
Talk to our Tallented specialist solicitors
We have a dedicated team of experienced solicitors who are here to help you with a wide range of legal matters.
If you need expert legal help, you can talk to our specialist solicitors by calling us at our Newark, Southwell or Mansfield offices. Alternatively, you can complete our online form and one of our experts will get back to you shortly.