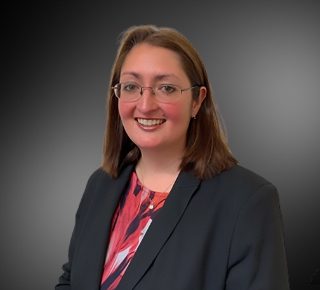 Chartered Legal Executive
Email
About Gemma
Gemma started in the legal profession in 2003 and has specialised in private client services since 2007. She qualified as a Chartered Legal Executive in January 2015 and is an Associate of STEP.
Gemma joined Tallents in 2019. Gemma is based in our Southwell office. She is a valuable member of our very successful Private Client team, delivering excellent client service. She hopes to continue to build and expand the private client services department in the Southwell area.
Outside of work, Gemma enjoys baking and cake decoration, walking her Leonbergers in the Peak District and competing at a local pub quiz.
Wills, Trusts and Probate
Gemma's legal knowledge extends over a number of matters, including: Wills, Lasting Powers of Attorneys, Enduring Powers of Attorney, Court of Protection and Deputyship, asset planning and preservation, lifetime gifts, writing deathbed wills, and Estate Administration and Trusts.
She most enjoys working with vulnerable clients, showing compassion, kindness and understanding to their often difficult circumstances. Clients can expect a kind, courteous and professional service from Gemma, delivered in a punctual manner.
Gemma is also happy to visit clients at home to discuss their requirements. Please call Gemma at our Southwell office to arrange this.
Affiliations
Gemma is an Associate of the Society of Trust and Estate Practitioners, also known as STEP, the global association for practitioners who specialise in family inheritance and succession planning.
Additionally, Gemma is an accredited member of Solicitors for the Elderly, a national association of lawyers who specialise in older client law. She is able to offer independent and confidential advice which is in the best interests of older or vulnerable clients.
She is also a Dementia Friends Champion. Set up by the Alzheimer's Society, this programme encourages people to register as volunteers, who then encourage others to make a positive difference to people living with dementia in their community. They do this by giving them information about the personal impact of dementia, and what they can do to help.
Gemma was lovely. Explained everything I needed to know. Very knowledgeable and helpful.