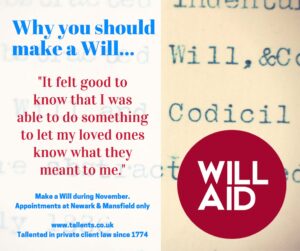 Following on from their incredible fundraising efforts for Will Aid last year, the Newark and Mansfield offices of Tallents Solicitors are aiming high again for this very worthwhile UK charity.
Tallents Solicitors in Nottinghamshire have signed up to the annual Will Aid scheme for the fifth year in a row and will again be writing Wills for local people in exchange for a donation.
As the previous top fundraiser for Will Aid in the Midlands, Tallents Solicitors have already raised a staggering £23,400 for the UK charity and are hoping to increase that sum yet further in 2018.
Sarah Allen, solicitor at the firm, said:
We were thrilled to have raised such a lot of money for such a worthwhile cause.
Taking part in Will Aid has enabled us to give back to both our local community and nine great UK charities.
Will Aid celebrates its 30th anniversary this year and we really want to raise as much as we can during November 2018, so we'll be offering appointments at our Newark and Mansfield offices for single and joint Wills.
John Coulthurst, Community Legacy Manager from the British Red Cross, one of nine charities who benefited from Will Aid, paid the firm a visit to help them launch their 2018 campaign and he noted their incredible fundraising efforts in 2017.
He said:
We were so very grateful to clients of Tallents Solicitors for their generous contribution to Will Aid last year of £10,420.
Contributions like this help charities such as the Red Cross, who then use those donations to reach people in crisis, both here in the UK and all around the world. This year, with the help of legal firms like Tallents Solicitors, we'll be able to help even more people at home and across the world.
Anyone who wants to make a Will can find out more by visiting www.willaid.org.uk. Will Aid is running again in November 2018 and Tallents Solicitors are booking appointments at their Newark and Mansfield offices now.